Taking care of a pack of 20 former stray dogs together with his wife is not easy. It is even more difficult when there is so much snow outside that it is difficult to open the door. But the owners did not lose their heads and turned the yard into a huge snow labyrinth.
Chris and Marisa Hughes found their calling in rescuing stray dogs. Over the years, they have sheltered 500 elderly animals: they picked them up, left them and sent them to a new home. And 21 more dogs settled in their house and in their hearts forever. Some pets are barely a year old, others are 20 years old and can hardly walk, but they all get their share of food, love and a place on the couch.
Tiny Yorkies, shaggy mutts, friendly bulldogs and elderly hounds – all live in one friendly flock. Caring for so many dogs is very difficult, sometimes it seems impossible at all. Especially when there is so much snow on the street that you can hardly open the front door. The man said that although he had lived all his life in rather snowy cities, he saw such an amount of snow for the first time. So much snow in such a short time.
But like it or not, the dogs need to be released to do business in the yard. And Chris took a shovel and went to clear the yard. First, he cleared a small area in front of the house – just so that the dogs could go out one by one and relieve themselves. But he already got a taste, and then the man came up with a better idea. Why clear the whole yard when you can make a snow maze? And he dug narrow passages in the snow, turning the yard into an intricate attraction.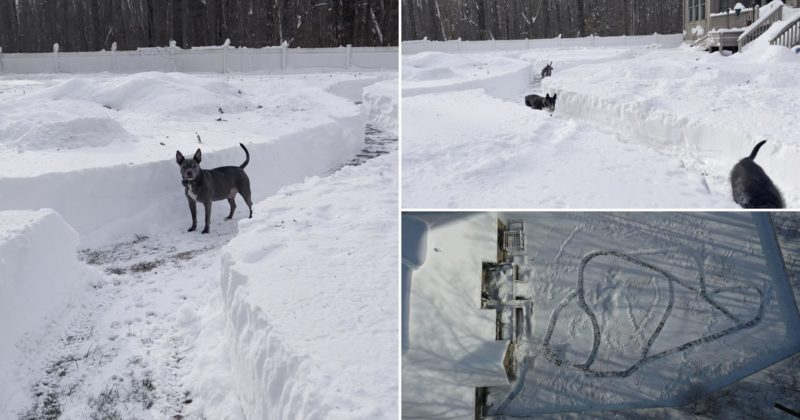 A snowdrift to the waist of an average person, even for a large dog, seemed like a serious barrier. And even more so, they could not guess where the winding passages in the snow mass would lead them! Pets appreciated the entertainment – both old and young ran out to run around the maze, play catch-up and look for new passages.